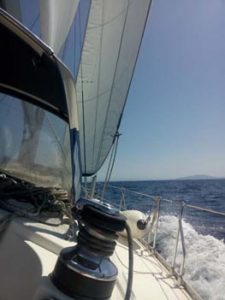 What to bring
Apart from your normal holiday wardrobe, please check the weather and adapt your sailing wardrobe to the weather conditions. We advise you in any case to bring
at least one warm sweater, a good raincoat and
enough sun protection!
As for the deck shoes, anything with non-staining white soles and little profile is suitable.
A pillowcase, a duvet or top sheet AND a bed sheet (to protect the matress) Summer blankets are available on the boat but most of the time it is too hot for a blanket or sleeping bag, so a duvet used as an insert may be a better solution.
Two bath towels: one for salty and one for sweet water
A valid passport or ID card
Cash money for the Boat Kitty and Security Deposit (see below)
A kitchen towel
Please do not bring a solid suitcase, but a supple travel bag.
Optional:
Snorkel, mask and/or fins are great if you want to discover underwaterlife
When you have sailing gloves, trousers or shoes, don't hesitate to bringing them along.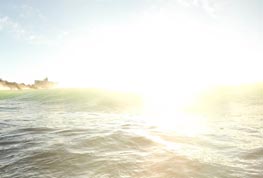 Boat Kitty
Collective expenses are paid from the Boat Kitty. These include meals and drinks on board, diesel, gas, tourist permit, final cleaning, harbor- and mooring charges. The skipper and coskipper do not pay into the Boat Kitty. From experience, the costs can be estimated at about 200€ per person, depending on the area where we travel. These expenses do not yet include restaurant visits. Going out for dinner to enjoy local culinary specialities is of course possible. The Skipper is kept free in case of dining out, the co-skipper however pays her share herself in that case. One of the crew will be in charge of the Boat Kitty. The remaining amount will be refunded at the end of the trip.
In case there is only one guest on board, Sunnyside Sailing will incur 30% of the Boat Kitty.
Arrival
Arrival time is 17:00h. Please contact us the morning of your arrival to get the extact information about the marina and berth. In case you are seriously delayed, please let us know in time.
After the cabins are allocated and the guests have settled themselves, provisioning is done. A grocery list is made (in accordance with the guests' preferences) and part of the crew will go to the local shop/market to buy provisions for the trip. This is paid from the Boat Kitty. During the trip, kitchen work and cleaning the dishes is done collectively.
The morning after arrival, extensive ship- and safety instructions will be given and under normal conditions, we subsequently set sail.
The day of departure the guests have to leave the boat by 10 a.m.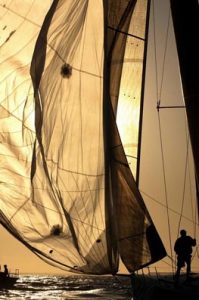 Number of guests
The maximum number of guests on the boat is 4 (there is actually space for 6 guests, but to keep things as comfortable as possible, maximal occupancy is set to 4 guests). Guests are accomodated in double cabins. It is possible to book a double cabin as single at 70% of the price of a double cabin.
Collective Liability
On the boat, solidarity is crucial. Each one of the crew takes part in the responsability for fellow crew members and for the ship. That is why each crew member contributes to a collective
security deposit of 1.000€ (forsee between 250€ and 500€ p.p. depending on the number of guests). The security deposit is used in case of possible damages and is refunded in case of no damage.