Who we are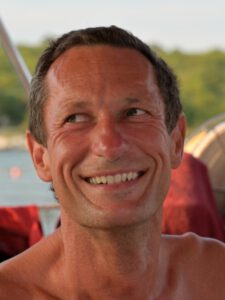 Klaus
Klaus started sailing in 1992 and has in the mean time done more than 25.000 seamiles. He has explored almost every corner of the Mediteranean sea, from Turkey to Gibraltar, sailed in Bretagne, Sweden & Danmark (Ostsee), the Canary Islands and the Caribbean.
In 2015 he quit his job as a Space engineer to pursue his dream to fulltime live and work on a sailing boat. He has been active as a Sailing instructor for almost 15 years. Klaus likes cooking, enjoying good food, good wine, salsa dancing, reading,
woodwork, photography, people and the sea.
Licenses: SKS SSS SRC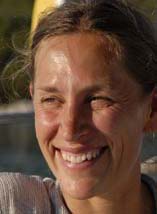 Hannelore
Hannelore only recently got into sailing. Since starting in 2015 she has gained experience by sailing about 10.000sm in the North Sea, the Adriatic, Ionian and Aegean Sea.
She likes cooking and healthy food, collecting natural treasures, saxophone, poetry, Yoga and (Traditional Thai) Massage. In case you need to unwind she's happy to offer you a benevolent massage on deck or practise some yoga together.
Why we choose the cruising life
We are looking for more simplicity in our lives, living minimally and in closer intimacy with nature. In a world that is becoming increasingly fast, where getting 'connected' is seemingly achieved with a few mouse-clicks, we believe there is a profound need for slowing down. In fact, we believe there can be no true connection without slowing down. That is why we choose the cruising life, and that is what we want to offer our guests: travelling at a pace in proportion to what can be absorbed, creating an opportunity for experiencing fully what is there.
Sailing provides us with the ability to explore, experience and connect, and share all that with you. We love the constant ebb and flow of new and interesting people in our lives, so feel welcome on board!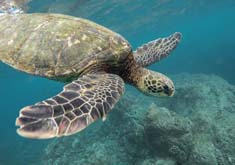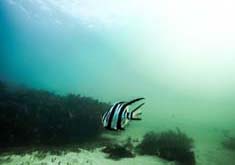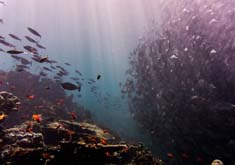 Green Boating
We try to minimize our impact on the environment by using renewable energy sources, reducing our fuel usage, pollution prevention, using nontoxic cleaning products, respect wildlife and their habitat. We are currently looking for ways to reducing our plastic consumption. All tips welcome!